Table of Contents
Introduction: Discovering Bramley Products
The History of Bramley Products
Nature's Goodness: Ingredients in Bramley Products
Skincare Routines Made Simple
The Benefits of Bramley Products
Embracing Sustainability: Bramley's Eco-Friendly Approach
Frequently Asked Questions (FAQs)
Conclusion
Introduction: Discovering Bramley Products
In a world filled with countless skincare options, it can be overwhelming to find products that not only deliver exceptional results but also respect the environment. Enter Bramley Products, a brand that combines the best of nature and science to provide naturally inspired skincare solutions. With their commitment to using botanical ingredients and their dedication to sustainability, Bramley Products offers a skincare range that promotes a radiant glow while being mindful of the planet. Join us as we delve into the story behind Bramley Products and explore their exceptional line of skincare essentials.
The History of Bramley Products
Bramley Products was founded by Chloë Luxton in 2009, with a vision to create luxurious yet natural skincare products that would inspire a sense of wellbeing. Drawing inspiration from the enchanting English countryside, Luxton crafted a range of products infused with fragrant botanical extracts and essential oils. The name "Bramley" pays homage to the Bramley apple, a fruit known for its distinct fragrance and rich heritage in the United Kingdom.
From its humble beginnings, Bramley Products has grown into a well-respected brand that values authenticity, sustainability, and the power of nature. Each product is carefully crafted to deliver nourishment and rejuvenation, providing a sensorial experience that indulges the senses.
Nature's Goodness: Ingredients in Bramley Products
At the heart of Bramley Products lies a deep respect for nature. The brand is dedicated to harnessing the power of botanical ingredients, carefully selected for their beneficial properties. Bramley's formulations are free from harsh chemicals, parabens, and artificial fragrances, making them suitable for even the most sensitive skin types.
Among the ingredients you'll find in Bramley Products are:
Aloe Vera: Renowned for its soothing and hydrating properties, aloe vera helps calm and replenish the skin.
Lavender: Known for its relaxing aroma, lavender essential oil promotes a sense of tranquility while providing gentle care for the skin.
Geranium: With its balancing properties, geranium oil helps to regulate sebum production and promote a healthy complexion.
Grapefruit: Bursting with antioxidants, grapefruit extract helps protect the skin from environmental stressors while imparting a refreshing scent.
Sweet Almond Oil: Rich in vitamins and fatty acids, sweet almond oil nourishes and moisturizes the skin, leaving it soft and supple.
Skincare Routines Made Simple
Bramley Products understands the importance of an effective skincare routine. With their range of products, they make it effortless to establish a regimen that suits your individual needs. Whether you're looking to cleanse, tone, moisturize, or indulge in a little self-care, Bramley Products has you covered.
Start your routine with the gentle yet effective Bramley Cleansing Gel, formulated to remove impurities and leave your skin feeling refreshed. Follow it up with the Bramley Facial Toner, which helps balance the skin's pH levels and prepares it for further hydration. For nourishment and protection, the Bramley Day Cream offers a lightweight yet moisturizing formula, while the Bramley Night Cream works overnight to replenish and rejuvenate your skin.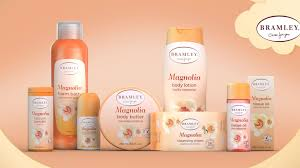 The Benefits of Bramley Products
Choosing Bramley Products not only benefits your skin but also contributes to a sustainable future. Here are some key advantages of incorporating Bramley into your skincare routine:
Naturally Derived: Bramley Products harness the power of nature with their botanical ingredients, providing you with a natural and gentle skincare experience.
Cruelty-Free: Bramley Products are never tested on animals, ensuring ethical practices in every step of the manufacturing process.
Environmentally Conscious: The brand is committed to minimizing its environmental impact. Bramley Products utilize recyclable packaging and strive for carbon neutrality.
Handmade in the UK: Each Bramley Product is lovingly crafted in the United Kingdom, supporting local communities and reducing their carbon footprint.
Aromatherapeutic Delight: The exquisite fragrances of Bramley Products not only elevate your skincare routine but also provide a sensory journey that promotes relaxation and well-being.
Embracing Sustainability: Bramley's Eco-Friendly Approach
Bramley Products recognizes the importance of environmental responsibility. They actively take steps to reduce their ecological footprint and promote sustainable practices. Here are some ways Bramley Products embraces sustainability:
Packaging: Bramley Products use recyclable and biodegradable packaging materials whenever possible, minimizing waste and supporting a circular economy.
Carbon Neutrality: The brand is committed to offsetting their carbon emissions, ensuring that their operations have a minimal impact on the environment.
Local Sourcing: Bramley Products prioritize sourcing ingredients from local suppliers, reducing transportation emissions and supporting regional communities.
Refillable Options: Bramley offers refillable options for select products, allowing customers to reduce packaging waste and extend the life of their favorite skincare essentials.
Bramley Products' dedication to sustainability extends beyond their products. By choosing Bramley, you contribute to a greener future, one skincare routine at a time.
Conclusion
Bramley Products offers a unique blend of nature and luxury, providing a range of skincare solutions that nourish, protect, and uplift. From their thoughtfully selected botanical ingredients to their commitment to sustainability, Bramley Products demonstrates that skincare can be effective, ethical, and indulgent.
Experience the transformative power of nature with Bramley Products and discover a skincare routine that leaves you glowing from the inside out.